Social Impact is an Art 2023
1 + 1 = 3
Visual arts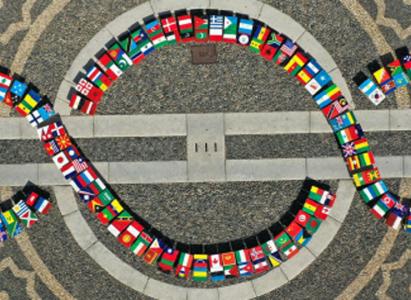 Friday 15 September 2023
15:30:  showcase of works by La Grande Boissière Primary and Middle School students
17:00: official installation of la Bandiera del Mondo - 196 paintings representing the world flags placed to form Michelangelo Pistoletto's trinamic symbol. The installation aims to raise awareness of everyone's responsibility and commitment to building a harmonious and sustainable society that celebrates differences, in harmony with nature. Each country of the World is part of a whole where everyone plays a key role in maintaining the balance.
Social Impact is An Art is a major exhibition, organised, for the 4th edition, in collaboration with the Cittadellarte - Fondazione Pistoletto ONLUS, on the theme of the 17 Sustainable Development Goals (SDGs) set by the United Nations through Michelangelo Pistoletto's concept The Third Paradise.
On this occasion, the Centre des arts will carry out a number of educational projects, giving students the opportunity to work on the 17 SDGs using art as a universal language. Under the title Third Paradise for Peace: Art with Social Impact No 5, students will work with partners and artists over 4 days in workshops designed to innovate and reflect further on the notion of social impact in relation to the 17 SDGs. On large canvases, the acronym is represented by one of the goals chosen by the students, who use art to launch a thematic reflection on this particular goal. These canvases are then sent around the world to different public and private schools, where the students complete their reflections according to their culture, knowledge and feelings.
This year, the Anouk Foundation is putting on an exhibition of the winners of the "Art4Impact" challenge to complete these educational reflections.
The Social Impact is An Art No. 5 exhibition is a colourful, sensory, educational and didactic journey that shows that living in peace means creating a responsible environment around us: respecting people's differences and culture, creating a constructive and intercultural dialogue as an important basis for responsible living, inspired by the 17 SDGs of the United Nations Agenda 2030.
The canvases, completed by some 3,000 students from around the world, after a world tour through different schools, are exhibited on the 3 floors of the Centre des arts, together with projections that recall the work of each artist and each partner.