A rich and varied programme
The Centre des arts hosts staged productions, workshops and conferences, and welcomes resident professional artists.
Through its programming and the development of partnerships with local and international artistic communities, the Centre des arts greatly enriches the teaching programmes of Ecolint. Open to a range of different audiences, it provides Geneva with a genuine cultural platform for the transmission of the arts and interdisciplinary exchanges.
At the heart of our mission: otherness, transdisciplinarity and creativity
Within the context of the school and the wider Geneva community, the Centre des arts' programming:
stimulates the teaching of the arts (music, theatre and visual arts)
enhances interdisciplinary cooperation with other teaching areas
encourages collaboration with cultural experts and institutions
expands the offer of extra-curricular activities in the field of the arts through courses, workshops, masterclasses, etc
offers a venue for the transmission of the arts and promotion of new technologies
 
Join the Circle of Friends of the Centre des arts!
The Circle of Friends aims to bring together all those who share our conviction that societal change begins with education and who wish to participate in developing our cultural institution and the promotion of its pedagogical and public activities in Geneva. Become a member and enjoy many benefits! 
Multipurpose spaces in a beautiful setting
Of ultra-modern concept and harmoniously integrated into an environment worthy of preservation, the urban woodland of La Grande Boissière, the building designed by the architects Wilmotte & Associés is intended for Ecolint students, cultural institutions and the general public. Its generous proportions house an auditorium that seats 300, a 155-seat theatre, a theatre studio, a dance studio, a recording studio and numerous classrooms, as well as exhibition space.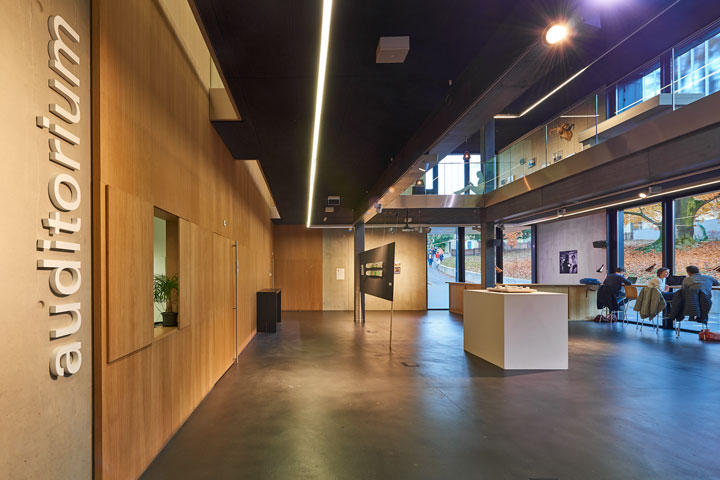 Opening hours & Access
The opening hours of the Centre des arts are adapted to the the activities taking place therein. Please refer to the times indicated for each event.
The Centre des arts is ideally located on the campus of La Grande Boissière, between the route de Chêne and the route de Malagnou, a short walk from the TPG trams 12 and 17 Grange-Canal stop, and a few minutes away from the TPG buses 5, 25, 61 Rieu stop, via the promenade Charles-Martin and the chemin de la Petite-Boissière.
The campus parking has 100 spaces available for evening events only. During the day we recommend that our guests use public transport.