Fear / Forget fear
Visual arts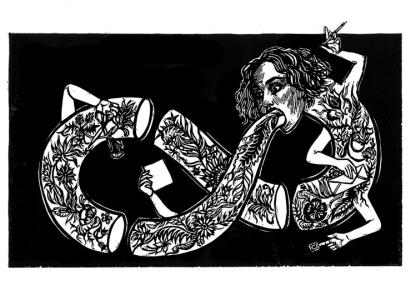 With: Marina Abramovic, Mathis Altmann, Sylvie Auvray, Abdelkader Benchamma, Will Benedict & Steffen Jørgensen, John Cornu, Gilles Dusabe, Mounir Fatmi, Valentine Cuny le Callet, Nicolas Daubanes, Alain Declercq, Leyla Goormaghtigh, Matthew Herbert, Pierre Huyghe, Jason Kanaginis, Jean-Luc Moulène, Kenneth Reams.
Exhibition by the Curatorial team 2022-23 as part of Ecoart - Curatorial Project, supervised by Manuel Fadat and Isabelle Muller.
Vernissage on 4 October at 17:00, followed by concerts by Matthew Herbert "The Horse" and Anne Quillier "Les Géants Terrestres" ⇒ go to event page
For a number of years now, we have been running an educational programme called Curatorial Project, which aims to give students an insight into the world of art on the one hand, and to raise awareness of contemporary art and curatorial skills on the other. The Curatorial team, made up of students supervised by Manuel Fadat, an independent curator and art historian, designs and produces an exhibition from a to z.
This year, we tackled an old, powerful and still topical subject that concerns us all: fear. After freely reflecting on and discussing this notion, its origins and its implications at every level of our lives, we looked at its manifestations in the history of art, and then invited artists whose work, in one way or another, dealt with this theme. Each of the works, entering into an aesthetic and plastic dance with the others, lifts a veil, poses a question, or tells a story. The exhibition then becomes a universe, an echo chamber that allows us to question fear and, precisely, to try to approach it in a different way, or even to go beyond it. Above all, it's an opportunity to discover great artists.
* Caption: Valentine Cuny le Callet, plate from Perpendiculaires au soleil, Editions Delcourt, Paris, 2022. Courtesy of the artist.
Acknowledgements: the artists / Fonds Cantonal d'Art de Genève / Rigo-Saitta Collection / Galerie Chantier Boîte Noire / Galerie Chantal Crousel / Editions Delcourt / Studio Fatmi.